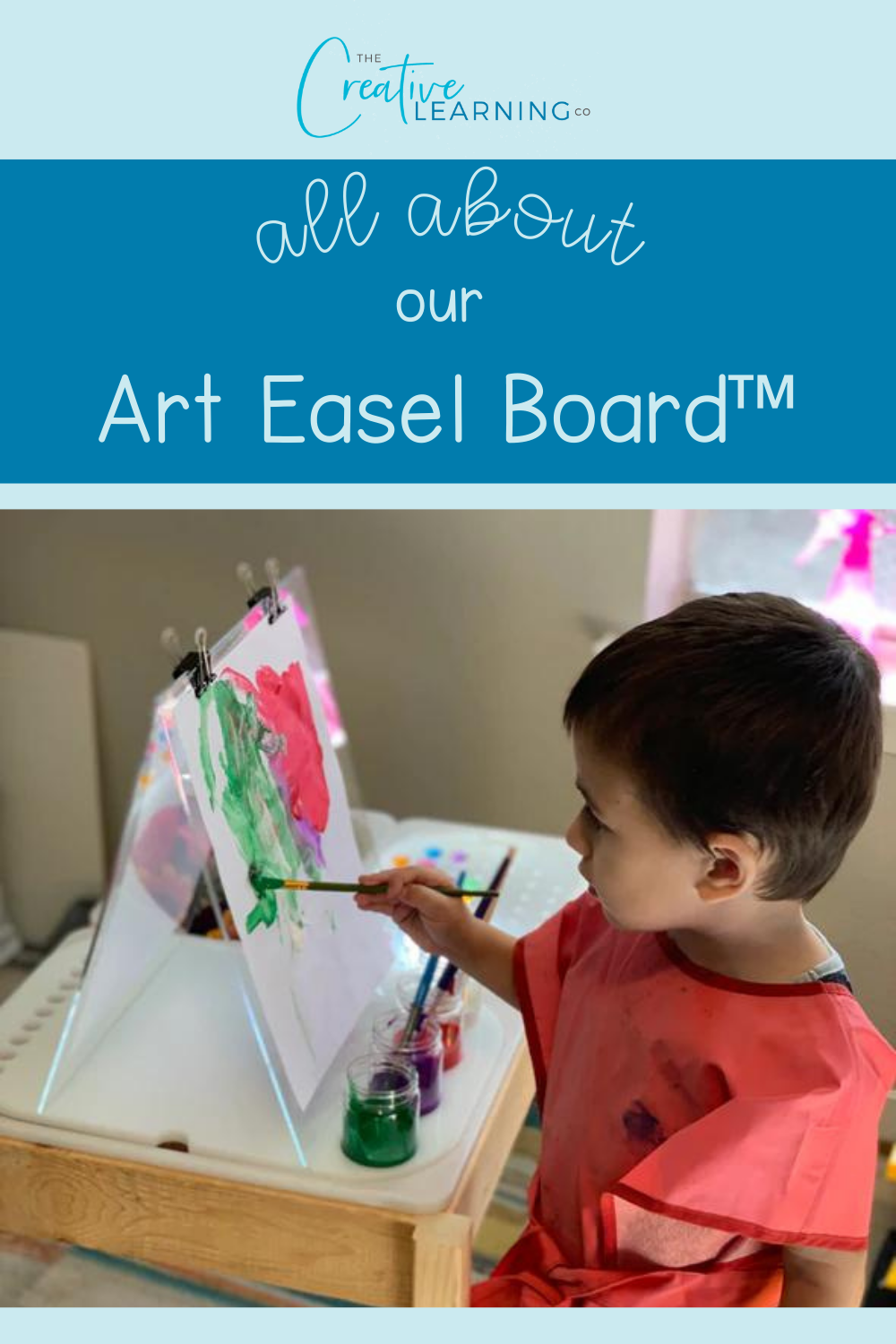 All About Our Art Easel Board™
If you're looking for an alternative to the large, clunky artist easels sold in stores then the Art Easel Board™ may be just what you need!  
Our Art Easel Board™ is a Creative Learning Co. original design! We created this compact, tabletop art easel alternative with kids and their parents in mind because we understand sometimes there isn't the extra space or time to set up a separate art area.  
The Art Easel Board™ is convenient to use and includes:
The Bottom Board

Two Clear Acrylic Uprights

Two Clips (to hold the uprights in place)

Four Paint Cups
It fits perfectly in the large trofast bins, making it easy for your child to get creative anytime! 
How to Use the Art Easel Board™ 
It's time to let go of the reins once more and allow your child the freedom to be creative (and maybe a little bit messy too).  
Easily store markers or colored pencils on one side and fill up the paint cups on the other. This art easel is unique in that you can paint directly on the acrylic board! It washes away easily and is ready to use again within minutes.  
Here are a few creative ideas for how to use our Art Easel Board™: 
Tape paper to the board to draw, paint, or color 

Tape paper to the backside of the board to trace the image 

Finger paint directly on the clear acrylic board  
Let your little Picasso get to work and see what his little mind comes up with! You may even find yourself letting your own creative juices flow from time to time.  
Why We Love the Art Easel Board™ 
"This easel is a must-have!! We are completely in love with this easel and use it constantly!" - Ellen M.  
There are so many reasons to love this board, including: 
It's Easy to Wash

– Simply, rinse off the upright and dry it! 

It Has a Space-Saving Design

– The acrylic uprights come apart in seconds and can be stored away in small spaces. 

Two Kids Can Use It at Once

– A double-sided board means twice the fun for everyone! 
However, in our opinion, the best part about our Art Easel Board™ is that it fosters independent art time for kids of all ages to paint, draw, and color. And here at The Creative Learning Co., we are all about supporting our kids in learning to create and discover without interfering with their imaginations! 
Art Without the Hassle 
We're here to create products that help you foster moments of creativity and opportunities for your child's creative side to soar!  
The Art Easel Board™ will be well-loved over the years to come as your little artist grows, creates, and uncovers new skills and techniques to perfect their masterpieces. Find it here or get in touch with any questions you may have by emailing info@thecreativelearningco.com!