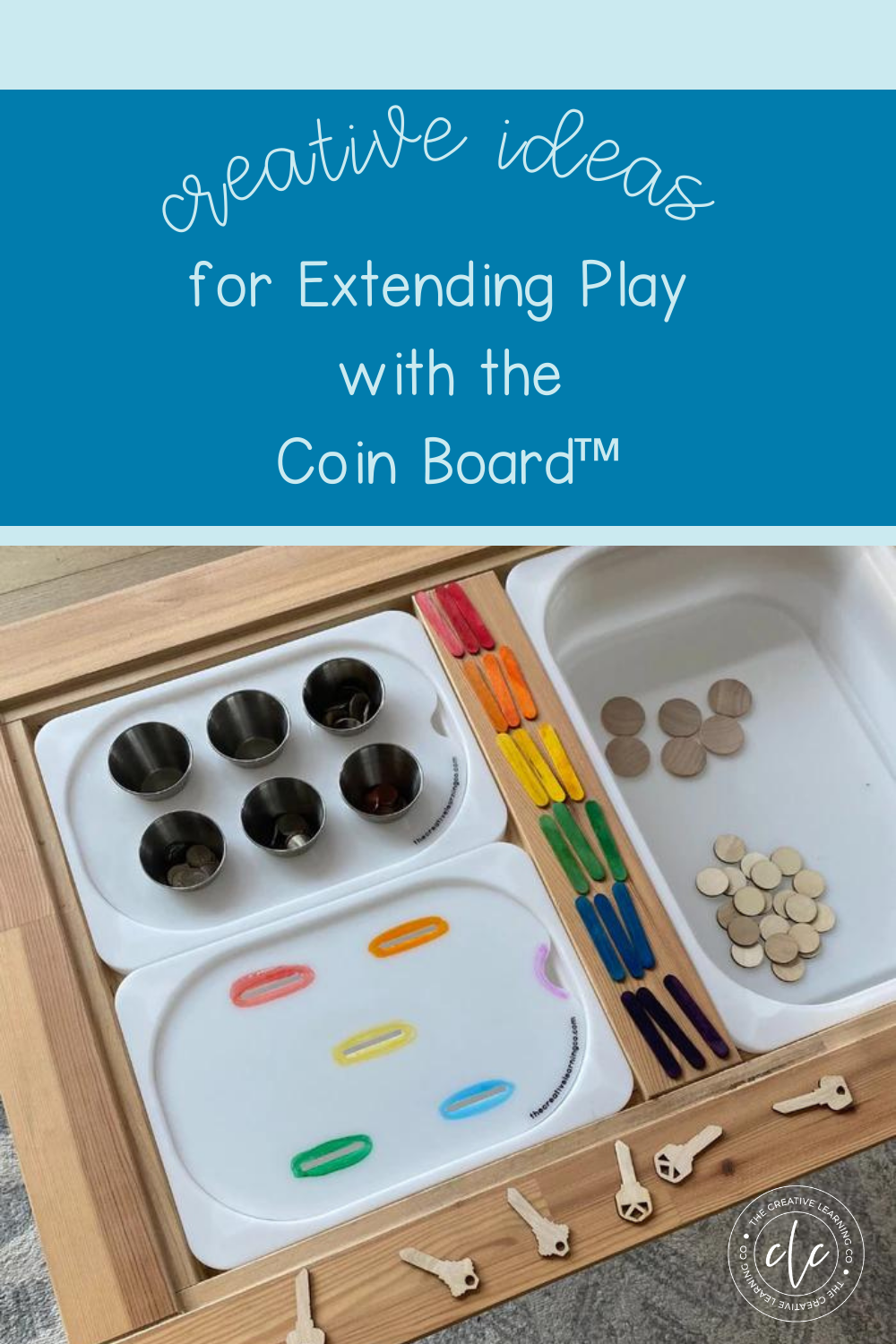 Creative Ideas for Extending Play with the Coin Board™
This post may contain affiliate links, which means I'll receive a commission if you purchase through my links, at no extra cost to you. 
Did you recently add a new Learning Board™ to your child's growing collection? Are you looking for new ways to incorporate open-ended play with this new board? Today, we're sharing a few ideas on how you can encourage new and creative ways for your child to use the Coin Board™. 
Our Coin Board™ offers a simplistic design with endless possibilities. This board is made from frosted acrylic and has five slots for open-ended learning. It comes with a bag of loose parts, including wooden coins, keys, and mini craft sticks.  
Creative Ways to Play  
Ka-Ching! It's time to begin exploring the endless possibilities that the Coin Board™ has to offer. No matter your child's age or level—there is a way to play with this unique Learning Board™.  
Preschool-aged kiddos can use this board to improve fine motor skills, match, or play store.  
Elementary-aged kids can utilize this board to improve math skills and coin recognition as well as use alongside other coin-based games. 
Here are a few ideas we've seen and love:  
Sticker Matching – Place identical stickers next to the slot and on a cutout "coin" for improving matching skills.  

Themed Play – Create a themed sensory play table with the loose parts provided upon purchasing the Coin Board™. Have a pizza party, make pancakes, or unlock hidden treasures by dropping the loose parts down the slots.  

Coin Recognition

– Write coin values near slots and provide your student with real money to sort. For a more advanced option, write the words instead of the values! 

Counting and Number Recognition – Write numbers next to the slots and have your child drop the appropriate number of items down each of the slots. 

Imaginative Play – These

Wood Stick People

fit perfectly in the slots! Color them, paint them, or leave them as-is and let your child's imagination soar!
Adding to the Fun  
Several of our other Learning Boards™ and accessories pair well with our Coin Board™ to help extend the amount of play-based learning time you get out of this board.  
Rainbow Ring and Coin Collection™ 
This accessory offers a variety of vibrant colored coins to drop down the slots. Strengthen your child's color recognition and matching skills by placing the rings over the slots and encouraging your child to match the correct color to the correct ring! 
Use this Learning Board™ to display all of the loose parts available to drop down the slots—allowing your child to sort, mix, and match as they go. 
This board offers a great way to reinforce counting objects to drop down the slots on the Coin Board™.  
Why We Love the Coin Board™ 
When it comes to open-ended play, simple is often better. We love the Coin Board™ because it can easily be used for a wide range of ages and levels to help improve: 
Fine Motor Development 

Hand-Eye Coordination  

Coin and Number Recognition 

Counting Skills 
Getting Creative with Coin-Based Activities  
Ready to take on learning in a whole new way? Try our  Coin Board™ today! 
We love seeing the new and creative ways your child is using our Learning Boards™. Tag us on
Instagram
so that we can share your ideas with the rest of The Creative Learning Co.™ community!