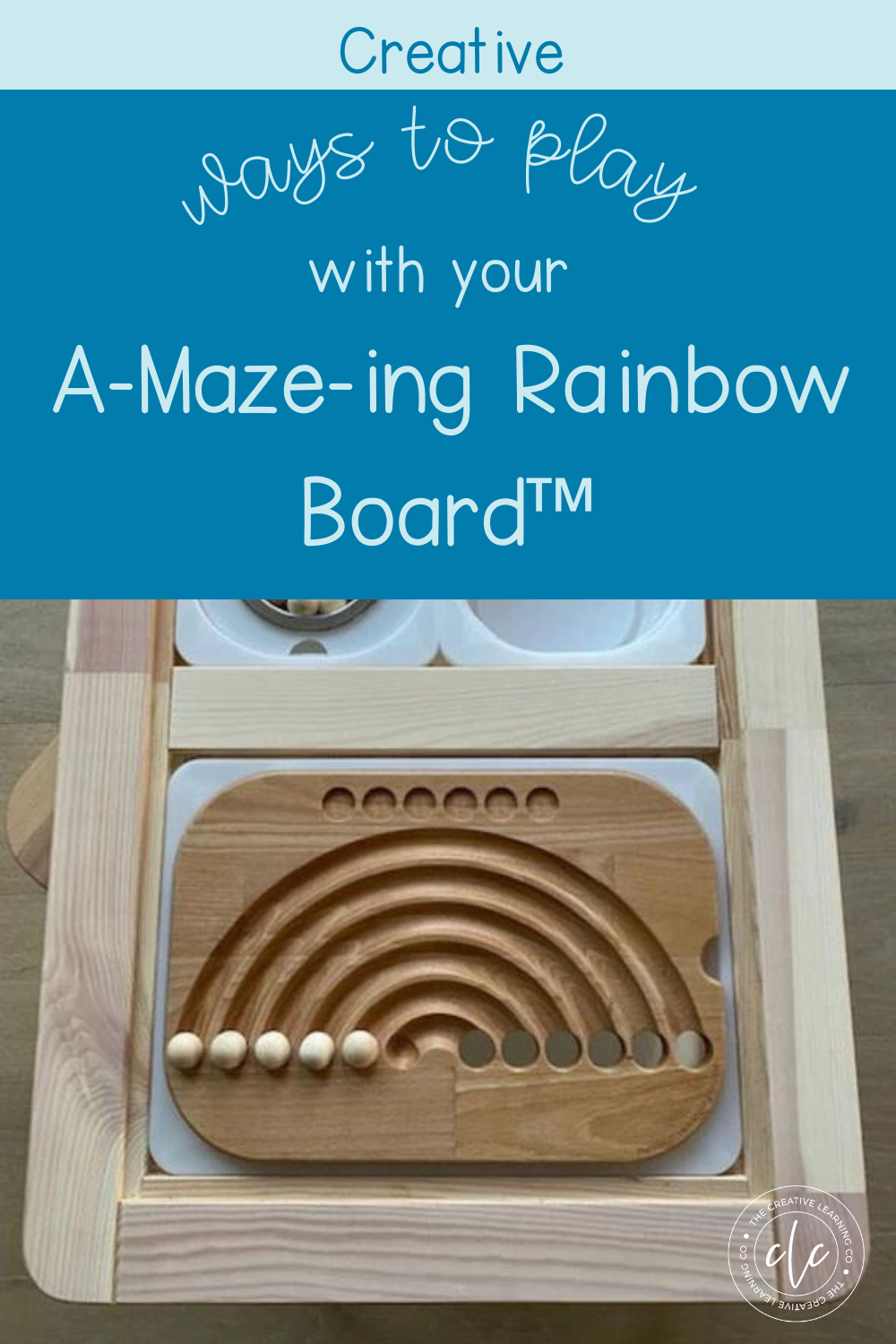 Creative Ways to Play with Your A-Maze-ing Rainbow Board™
This post may contain affiliate links, which means I'll receive a commission if you purchase through my links, at no extra cost to you. 
Our A-Maze-ing Rainbow Board™ is a favorite among our Creative Learning Co.™ community. If you've had the chance to snag one of these amazing boards, you've likely already begun to experience all of the fun opportunities this Learning Board™ possesses.  
This sealed beechwood board is double-sided for double the fun! One side has a rainbow and the other side has a maze/labyrinth. Twenty wooden balls come with your initial order, but any 1" ball or marble will work perfectly to slide and swirl around this board! 
Why We Love The A-Maze-ing Rainbow Board™  
As with any board we create, we strive to always offer ways to cover important developmental milestone skills through play! The A-Maze-ing Rainbow Board™ is a great learning resource for many different skills necessary for a child's development, including:  
Fine Motor Skills 

Finger Strength 

Concentration and Focus 

Hand-Eye Coordination 

Pre-Writing Skills 

Cause and Effect 
Your preschooler or elementary-aged kiddos will love exploring the different ways they can push the balls along the tracks into the holes at the end! 
How to Get the Most Out of Your Learning Board™ 
We're always amazed at the new and creative ways our Creative Learning Co.™ community finds to use our Learning Boards™!  
It can be helpful to leave out different play materials for your child as an invitation to play without any pressure! Follow your child's lead as they explore the different ways they can utilize the board, but here are a few unique options we've seen or have tried ourselves:  
Color the rainbow with pom poms 

Offer loose parts to allow for imaginative play 

Provide marbles to roll around the maze 

Use a spoon or popsicle stick to guide the ball through the maze or over the rainbow 
If you're interested in switching things up or offering an even more exciting experience for your child, we've rounded up a few different types of marbles that would be perfect for this board—including a glow-in-the-dark option! You can find them here. 
Your Invitation to Play 
Our passion is to create ways to keep your kiddos engaged and enjoying learning through play—because play is enough. As your child utilizes this Learning Board™, the different activities will strengthen their fine motor and critical developmental skills without them ever knowing they were learning in the first place!  
Have you tried the A-Maze-ing Rainbow Board™? Share your creative ways to play with us over on Instagram!