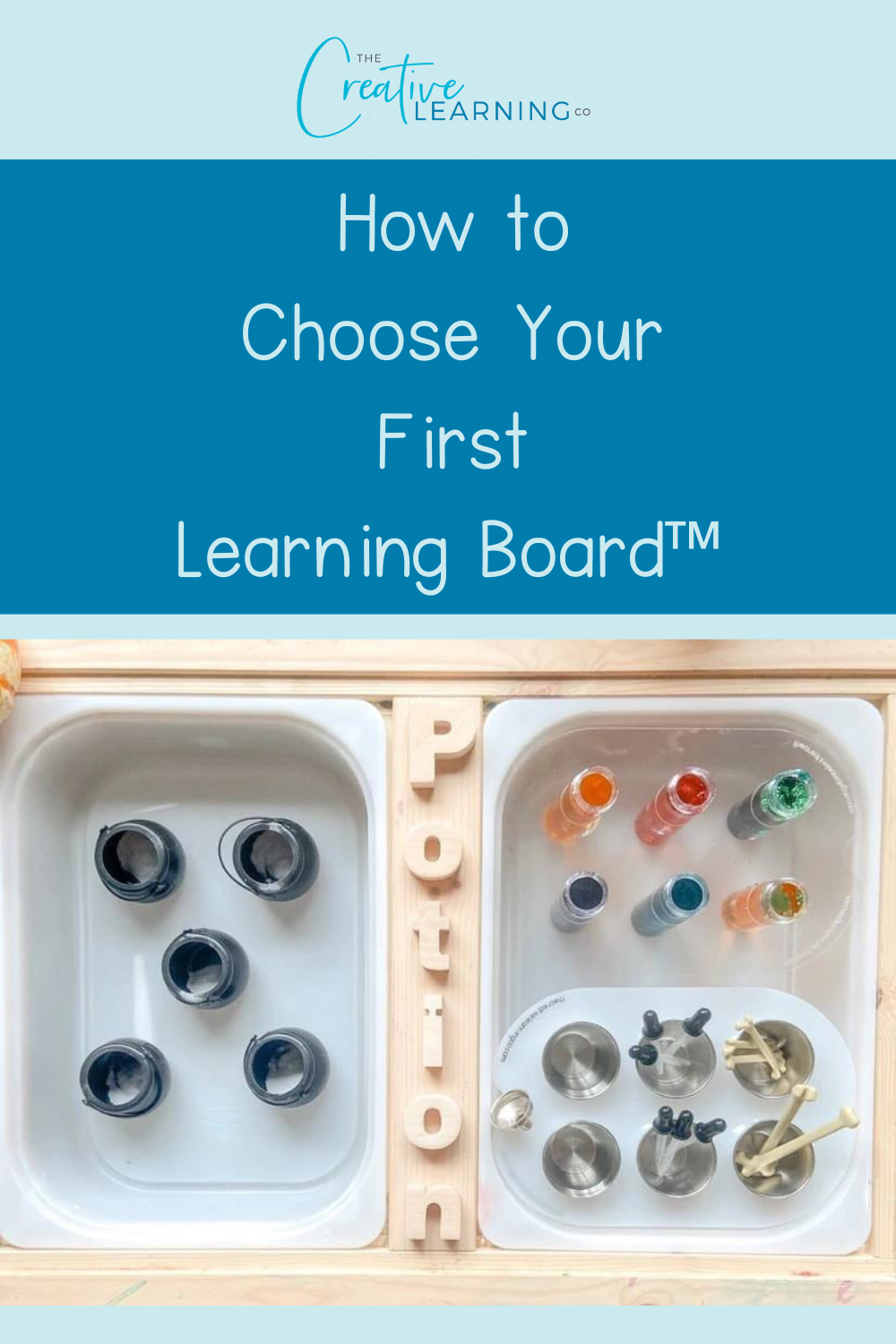 How to Choose Your First Learning Board™
Are you new to The Creative Learning Co.? Welcome! We're so happy you're here.  
Our Learning Boards™ are designed to help foster open-ended play in your little explorer's day-to-day lives. We continue adding new boards all the time to keep things exciting and engaging!  
Learning boards™ make it easy for both parent and child to enjoy play-based learning. It's easy to start a new activity or cover a new skill simply by swapping out the board.  
When skimming our website and products—you may be thinking to yourself, "Where do I even begin?!" or maybe you have your eye on several different boards but want to ease in with one or two to begin. 
Here at The Creative Learning Co., we have a few fan favorites: 
The Potion Board™ 

The Cup Board™
The Potion Board™ and Cup Board™ are two of our most popular learning boards, and both create great opportunities to incorporate more sensory play into your child's day!  
Potion Board™ 
The Potion Board™ opens the door to a whole new world of scientific discoveries. It is made of clear acrylic and comes with six flat-bottom test tubes and lids.  
Why We Love It: Children learn best through exploring, discovering, and creating all on their own! Our Potion Board allows them to pour, mix, and make whatever their little minds can think up. 
How to Use: There is really no wrong way to use the board and test tubes! We love watching as children think up new ways to use the materials provided for them. If you're looking for different ideas on how to use the Potion Board™, we recommend: 
Filling each tube with sensory materials such as beans, rice, or sprinkles 

Challenging your kiddo to transfer colored liquids from one bottle to another  

Using this board alongside another Learning Board™
Cup Board™ 
The Cup Board™ is another must-have for families who love sensory play! This learning board™ is made out of acrylic—allowing for liquid or dry activities. It comes with six stainless steel cups, one mini wooden scoop, and six droppers.  
Why We Love It: The Cup Board™ is the perfect invitation to play. It's a great board for transferring, scooping, and pouring all types of materials. The possibilities are endless.  
How to Use: As always, we encourage you to let your child lead as they discover new ways to use the Cup Board™. If they need some prompting, here are a few ideas to spark their imagination: 
Use cups for paint, rice, or beans  

Store loose parts or various pieces for other open-ended activities  

Remove the cups and use funnels or giant pom poms to create a pom pom push 
Discover More Ways to Play  
As you learn more about the importance of open-ended play or look to continue expanding your materials—we encourage you to give our Instagram a follow. Open-ended play is our passion, and we are often sharing new ways to use your learning boards™ and accessories!