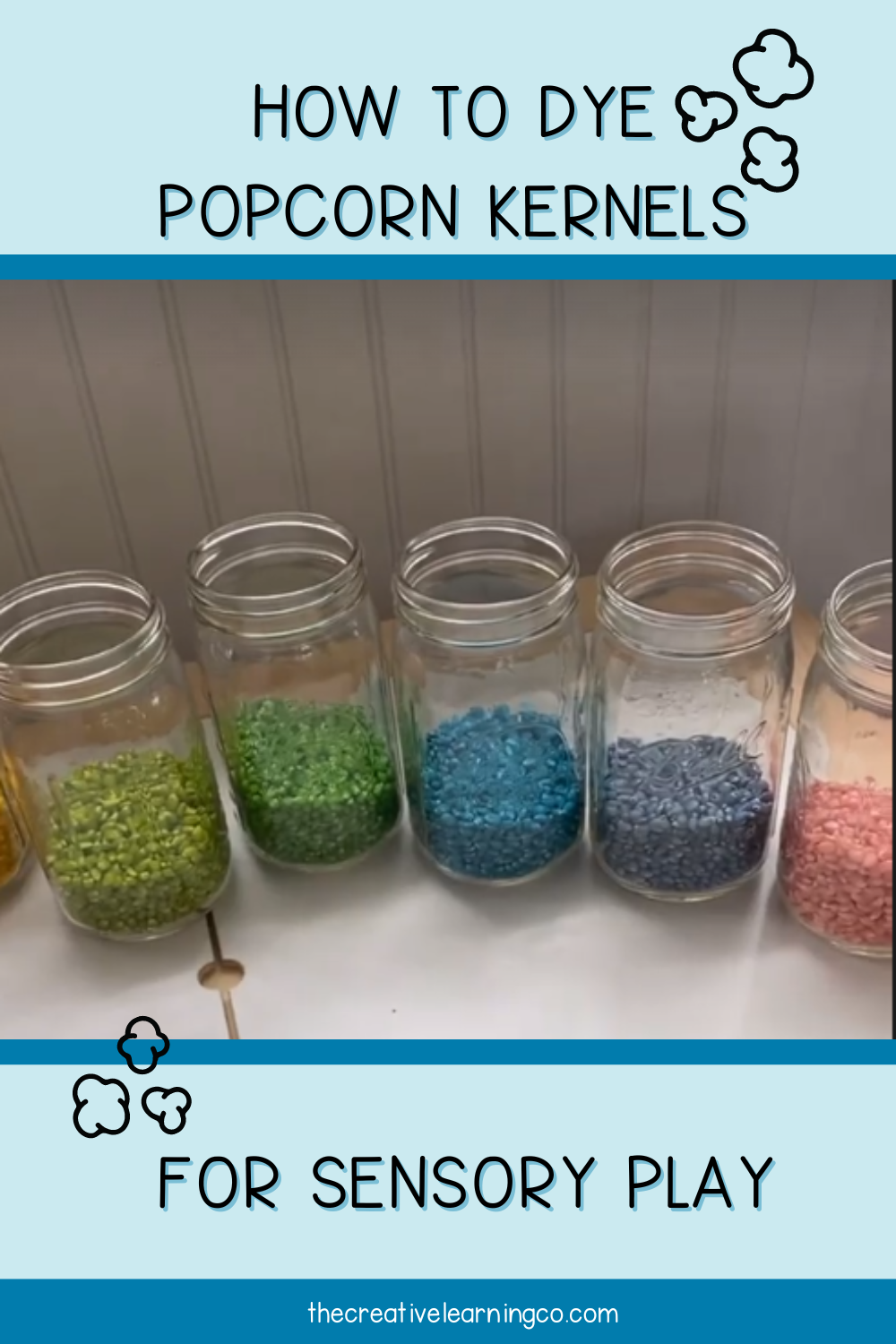 How to Dye Popcorn Kernels for Sensory Play
Have you ever tried dying popcorn kernels? They are a great sensory bin filler that elevates any sensory play experience! You can create vibrant colors to match any theme.  While easy, the process to dye the popcorn kernels takes a day or two.  If kept in a dry, air-tight, jar, they can last for a year or longer!
We're sharing our favorite way to dye popcorn kernels with you!
* DISCLAIMER: Recommended for ages 3+ (once child is no longer putting things in their mouth). Adult supervision required at all times. *
Materials Needed
Popcorn kernels (we recommend white popcorn kernels, yellow do not absorb the color as well)

Distilled white vinegar

Water

Food coloring (liquid watercolor does NOT work very well for this process)

Glass jars (we love using Mason Jars)
Process
Put 1 cup of popcorn kernels into the glass jar

Add a ½ cup vinegar and ½ cup water to the jar with the kernels and water (the liquid needs to cover the kernels completely)

Add the food coloring to the jar and mix (cover with lid and shake)

Let sit for 24 hours.  If you want a darker color, add more food coloring or let them sit longer.

Rinse the kernels and drain the liquid 

Lay flat on a piece of paper towel or tin foil to dry for a few hours

Make sure they are completely dry before play (this is a very important step that can't be missed)

Store in an airtight container.
Ways to play
Dying popcorn kernels for sensory play is fun activity to practice measuring and mixing with your child.  You can practice sorting, counting, and pincer grip strength while playing with them. There are so many fun ways to play with dyed popcorn kernels!
 Which activity are you going to try?  Share in the comments!