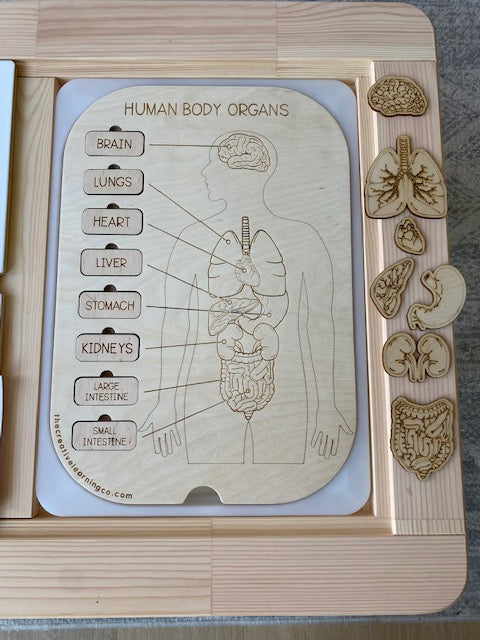 Human Organ Board™
Original price
$68.00
-
Original price
$68.00
Our Human Organ board™ is an absolutely beautiful learning resource. The engraved wood human organ diagram pieces and the board make learning fun and engaging. Each organ name has its own pocket with a line to the corresponding organ. Included are human anatomy flashcards and a "my body" poster - everything you need for easy human body learning activities! 
I am so grateful to www.shareometoys.com for collaborating with me to include her printables with each order. Together, we've created a great hands-on science learning tool! It is hard to describe the beauty and versatility of this product until it is in your hands. Homeschool parents, teachers, families with medical professionals, and/or regular families who have kids interested in human organs, this is for you!
Material: birch (this product has been left unfinished/not sealed)
Includes: 
 1 Human Organ Board™ (Includes: 8 organ label tiles + 7 organ tiles)
 1 "My Body" poster + Flashcards
Trofast bin size: large
fits the large Trofast bin
*Trofast bin not included with purchase.
Ways to play: 
Use this wooden human organ diagram for fun, hands-on science learning activities, including:
- Place organ tiles and label tiles onto the matching location on the board.
- Practice vocabulary words for different organs.
- Identify parts of the body.
- Discuss the function of each organ.
Pairs well with: 

Warning: Adult supervision is required at all times. Intended for children ages 3+. Many of our products contain small parts and should not be used by children under the age of 3. By purchasing our products you are assuming all risks associated with play. Please read our full liability disclosures here. In the event that a product should break, please discontinue use immediately. Creative Learning LLC is not responsible for any misuse of products.
*Please note that wood is a natural product.  Each board is unique and different and will have natural grains & striation patterns (no two boards will be the same). Exchanges for color preference will be at the cost of the customer and the product must be returned unopened in the bag. Please read our FAQ page for care instructions.