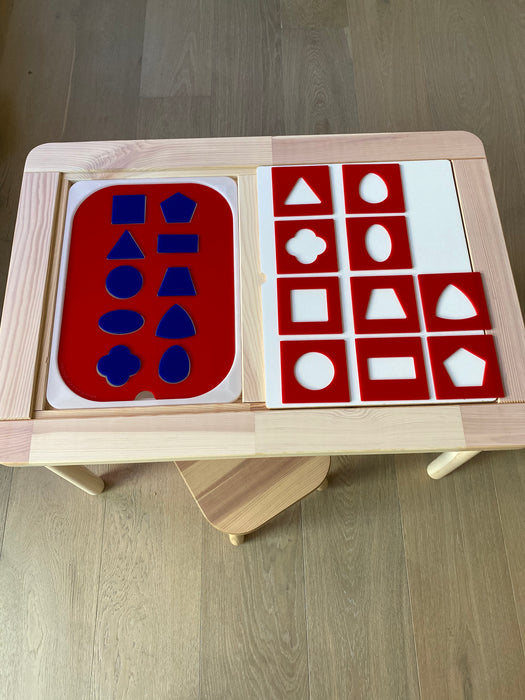 Montessori Insets Shape Board™
Sold out
Original price
$0.00
-
Original price
$0.00
Our Montessori Inset Shapes Board™ is a fantastic learning resource for schools or homes. Modeled after metal Montessori insets, this board supports not only practicing shapes, but also fine motor skills, independence, concentration, and coordination. This Montessori style shape sorter makes it easy to incorporate shape learning into your child's play!
This board is a two-piece construction with a red top board, 1/4" blue shapes, and a clear/matte bottom board. The bottom board has the shape outlines engraved, so you can match them onto the bottom board. 10 red squares are also included with your purchase for the blue shapes to nestle into. 
Material: acrylic


Includes: 
1 red top board
1 clear/matte base board
1/4" blue shapes
10 red squares
Trofast bin size: large
fits the large Trofast bin
*Trofast bin not included with purchase.
Ways to play: 
Use this Montessori inset shapes sorting board for one of these hands-on learning activities:
- Trace the shapes.
- Learn shape names and shape attributes.
- Create a drop-through game - simply place only the top board in the Trofast bin and challenge kiddos to drop the shapes through.
Pairs well with: 
Skills/ benefits: 
- fine motor skills
- concentration and focus
- spatial sense
- hand eye coordination

Warning: Adult supervision is required at all times. Intended for children ages 3+. Many of our products contain small parts and should not be used by children under the age of 3. By purchasing our products you are assuming all risks associated with play. Please read our full liability disclosures here. In the event that a product should break, please discontinue use immediately. Creative Learning LLC is not responsible for any misuse of products.