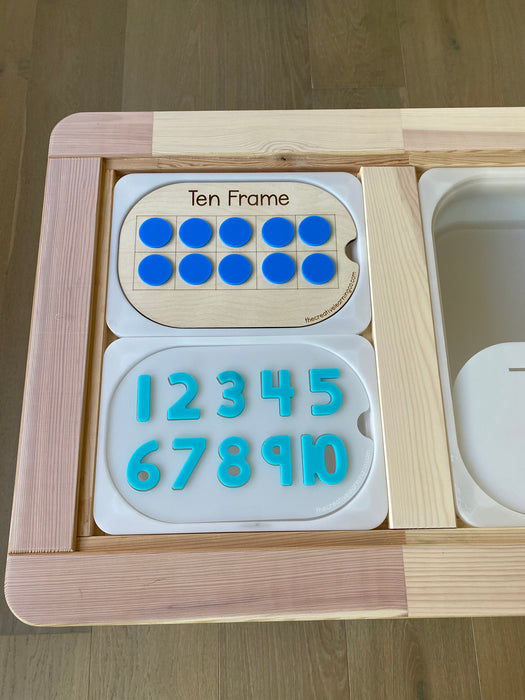 Acrylic Number Board™
Original price
$0.00
-
Original price
$0.00
Looking for new ways to practice numeracy and math skills? Our new Acrylic Number Board™ comes with chunky turquoise numbers 1-10, plus ten coin counters - perfect for number learning activities that kids will love! Pair with our Ten Frame Board™ (sold separately) for added fun!
The three-piece Learning Board™construction allows this board to function as a puzzle, a drop-through game, or a writing activity - the ultimate hands on learning tool for number recognition. The acrylic material is perfect for wet or dry sensory play! The font was created by our CLC design team to align with the most popular US-based handwriting programs so your little one can learn to write their numbers correctly from the start!
Material: acrylic
Includes: 
- 1 white top board (numbers cut all the way through)
- 1 clear acrylic bottom board with engraved numbers 1-10
- 10 chunky turquoise numbers (1-10)
- 10  coin counters
Trofast bin size: small
*Trofast bin not included with purchase. *
Ways to play: 
There are so many ways to use this number Learning Board™to boost your child's numeracy and math skills, including:
- Wet or dry play - bury numbers in rice or in colored water and challenge your child to find them and place them into the number puzzle

- Write on the board or numbers with dry-erase markers
- Practice one to one correspondence
- Practice number recognition
- Counting one through ten
Pairs well with: 
Skills/ benefits: 
- Sensory play

- Fine motor skills
Warning: Adult supervision is required at all times. Intended for children ages 3+. Many of our products contain small parts and should not be used by children under the age of 3. By purchasing our products you are assuming all risks associated with play. Please read our full liability disclosures here. In the event that a product should break, please discontinue use immediately. Creative Learning LLC is not responsible for any misuse of products.