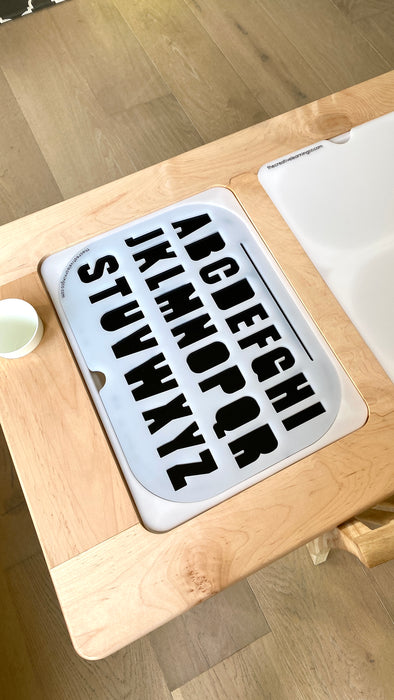 Uppercase Acrylic Resin Letter Board™
Original price
$0.00
-
Original price
$0.00
Our Acrylic Resin Letter Board™ is great for wet or dry sensory play and letter learning activities. It holds chunky resin letter sets nicely. The addition of the flashcard pocket allows caregivers/teachers to extend learning even more! Each letter pocket is 1/4" deep and creates the perfect space to fill with beans, rice and other sensory materials. This alphabet Learning Board™makes literacy and letter recognition fun and hands on!
Please select your style selection at check out:
Option 1 = One piece construction, top and bottom board glued together (like a puzzle)
Option 2 = Top and Bottom are separate, so you are sent two pieces. The top board has the letter cut-outs and the bottom board is blank.
Option 3 = Top board only. Only the top board will be included. This board has the letters cut all the way through the board. No bottom board included.
Ways to play: 
This resin letter Learning Board™ can be used in countless ways to help kids practice letter recognition, literacy and more:
- Match resin letters into their corresponding letter pocket
- Run finger along the lines of the letter to trace
Pairs well with: 
Skills/ benefits: 
- identify letters
- practice letter sounds
- hand-eye coordination
- fine motor skills
- matching/letter recognition 
Material: 1/4" acrylic (white on top and black underneath fused together to create one board)
Includes: 
1 Acrylic Resin Letter Board™ (either two pieces or one based on your selection)

NO LETTERS or FLASH CARDS INCLUDED!
Trofast bin size: large
*Trofast bin not included with purchase.
Warning: Adult supervision is required at all times. Intended for children ages 3+. Many of our products contain small parts and should not be used by children under the age of 3. By purchasing our products you are assuming all risks associated with play. Please read our full liability disclosures here. In the event that a product should break, please discontinue use immediately. Creative Learning LLC is not responsible for any misuse of products.