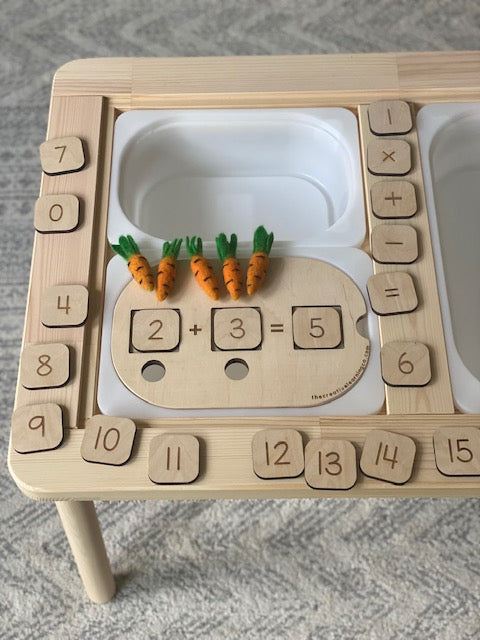 Addition Board™ + number tiles
Original price
$0.00
-
Original price
$0.00
Our new addition board™ comes with 25 wood tiles (number 0-20 and +, -, x, =) so you and your child can build and create addition number sentences. Add, play and have fun with hands-on addition learning activities! This wooden Learning Board™is great for foundational math learning. 
Material: birch
*Please note that wood is a natural product.  Each board is unique and will have natural grains & striation patterns (no two boards will be the same). Exchanges due to color preference will be at the cost of the customer and the product must be returned unopened in the bag. Please read our FAQ page for care instructions.
Includes: 
1 Addition Board™
25 wood tiles (number 0-20 and +, -, x, =)
*carrots not included
*Trofast bin not included with purchase.
Ways to play: 
Use this addition Learning Board™ to practice basic math skills with addition learning activities, including:
-
Fill the pockets with sand or salt and trace numbers
-
Drop loose parts through the holes to count each addend, then peek into the Trofast bin to see your sum
-
Run your finger along the engraved lines on the number tiles to practice number formation
-
 Bury the number tiles in sand or rice and retrieve for a fun counting game
Pairs well with: 
-
 Fosters foundational math skills
-
Concentration and Focus 
Warning: Adult supervision is required at all times. Intended for children ages 3+. Many of our products contain small parts and should not be used by children under the age of 3. By purchasing our products you are assuming all risks associated with play. Please read our full liability disclosures here. In the event that a product should break, please discontinue use immediately. Creative Learning LLC is not responsible for any misuse of products.