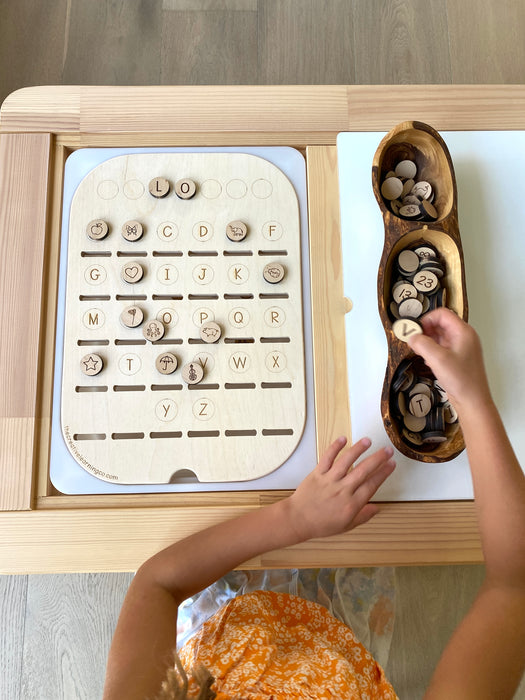 Alphabet Number Board™
Original price
$0.00
-
Original price
$35.00
This product contains small parts and should NOT be used by children under the age of 3. Do not leave this product around any child younger than 3. Play at your own risk.
Our Alphabet Number Board is beyond amazing for learning numbers, letters, and beginning letter sounds. It is double-sided and has numbers 1-30 on one side of the board and letters A-Z on the other. Each purchase comes with 108 1" wood coins for posting and other numeracy and literacy learning games. Make hands-on learning of letters and numbers easier with this wooden learning board.
Includes: 
4 sets of wood 1/4" coins
uppercase letters A-Z (26 coins)
lowercase letters a-z (26 coins)
numbers 1-30 (30 coins)
picture coins with objects focusing on beginning letter sounds (26 coins)
Trofast bin size: large
*Trofast bin not included with purchase.
Ways to play: 
Try some of our favorite letter and number recognition activities and other literacy learning games, including:
- Post coins through the corresponding letter or number slots
- Pair the letters with circles on the board
- Match the beginning sound coins to the correct letter
- Stack coins high (create a coin stack)
Pairs well with: 
Three Letter Word Spelling Board
Magic Mixing Board
Acrylic Hundreds Board
Acrylic or Wood Ten Frame
Acrylic Spelling Board
Skills/ benefits: 
- number recognition/identification
- letter recognition/identification
- counting
- spelling
- posting/fine motor skills
Material: Board is 1/2" Birch, coins are 1/4" birch
Warning: Adult supervision is required at all times. Intended for children ages 3+. Should not be used by children under the age of 3. By purchasing our products you are assuming all risks associated with play. Please read our full liability disclosures here. In the event that a product should break, please discontinue use immediately. Creative Learning LLC is not responsible for any misuse of products.
Please note:  Wood is a natural product.  Each board is unique and different and will have natural grains & striation patterns (no two boards will be the same). Please do not purchase if you do not like the look of wood graining. Please read our FAQ page for care instructions. Birch can have brown streaks or specs within the wood. This is naturally occuring.