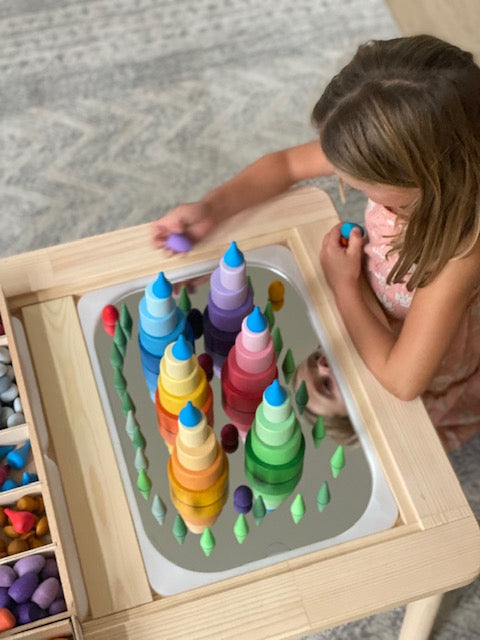 Large Mirror Board™
Original price
$0.00
-
Original price
$0.00
Our Large Mirror Board™ fits into a large Trofast bin for endless reflective fun! Cut from mirrored acrylic (not glass), this super versatile board allows your child to play safely with a mirror! Not only can you move the kids' mirror easily from floor to table, but it is also safe to write and draw on it with a dry-erase marker (wiping clean with a towel or dry-eraser). 
There are so many ways to learn and play with this product. Explore the many mirror play benefits for kids when you incorporate this acrylic Learning Board™into your activities.
Material: silver mirrored acrylic
Disclaimer: The plastic mirrored surface can scratch during play. Please be gentle and kind to your mirror board :) Please read our FAQ page for care instructions.

Includes: 
Trofast bin size: large
fits the large Trofast bin
*Trofast bin not included with purchase.
Ways to play: 
Use this mirrored acrylic Learning Board™to safely incorporate mirror activities for kids into your learning environment. Use this Learning Board™ to:
- Make observations about objects and loose sensory parts.
- Discuss concepts such as reflection, perspective, & symmetry.
- Encourage your kiddos to make faces. Discuss emotions, facial features, and what makes your child individual & unique. 
- Create a backdrop for small world play.
Pairs well with: 
Skills/ benefits: 
- nurture language skills/vocabulary development
- discover/explore scientific principles
- promotes coordinated movement
- enhances independent play

Warning: Adult supervision is required at all times. Intended for children ages 3+. Many of our products contain small parts and should not be used by children under the age of 3. By purchasing our products you are assuming all risks associated with play. Please read our full liability disclosures here. In the event that a product should break, please discontinue use immediately. Creative Learning LLC is not responsible for any misuse of products.