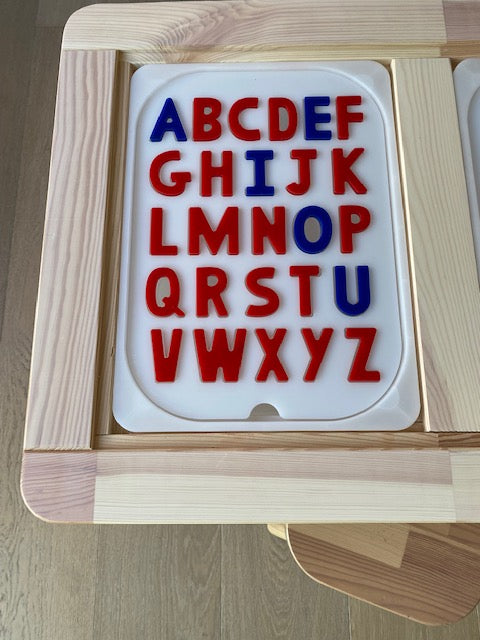 Montessori Uppercase Letter Board™
Original price
$0.00
-
Original price
$0.00
Our Uppercase Montessori Letter Board™ is an exciting new product added to our new Montessori line. With thick 1/4" letters, learners are able to spell words, stamp letters in play dough, play with letters in the bath, pool, or sensory table. 
Kiddos can also match the letters onto just the bottom board that has the letter outlines engraved for simple Montessori letter activities. You can write directly onto either of the two boards or letters with a dry erase marker to take your child's letter learning to the next level.
The font on this board was created by our founder, Ashley, and is specific to CLC. The font aligns with the most popular handwriting programs in the US so kids can learn the correct letter formation from the start and make letter recognition easier!

Material: acrylic
Includes: 
1 white top board
1 clear/matte base board

26 uppercase letters (A-Z)
NOTE: This listing is for a UPPERCASE Montessori letter board. It comes with 26 uppercase letters (A-Z) in the traditional Montessori color combination of red consonants and blue vowels. It also includes a white top board and a clear/matte bottom board. 
Trofast bin size: large
fits the large Trofast bin
*Trofast bin not included with purchase.
Ways to play: 
Use this Montessori letter board to keep kids engaged in hands-on letter learning activities, including:
- Write directly onto each letter to practice the correct handwriting formation

- Write directly onto the bottom board to practice letter formation
- Find objects around the house with specific beginning letter sounds, then match them onto the board
- Remove the bottom board and create a drop-through game
- Use as a traditional letter puzzle
- Practice alphabetizing the letters in order on the floor, then return letters back to the board.
- Use our word building board to spell words
- Practice sight words
- The bottom board has been created with matte/clear acrylic, so you can easily add light underneath and turn it into a letter light activity. 
Pairs well with: 
Skills/ benefits: 
- Letter identification

- Letter sound identification

- Spelling
- Word Building

Warning: Adult supervision is required at all times. Intended for children ages 3+. Many of our products contain small parts and should not be used by children under the age of 3. By purchasing our products you are assuming all risks associated with play. Please read our full liability disclosures here. In the event that a product should break, please discontinue use immediately. Creative Learning LLC is not responsible for any misuse of products.