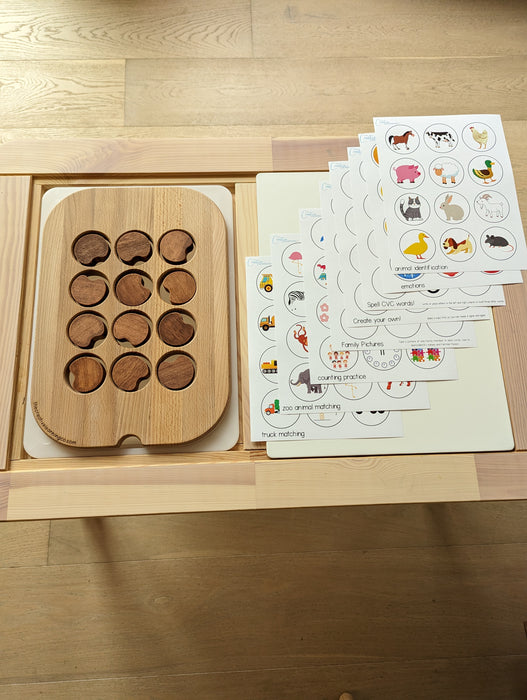 Peek A Boo Board™
Original price
$0.00
-
Original price
$0.00
Our Peek-A-Boo Board™ is great for matching activities, guessing games, and identifying what is hiding behind each disc. With your purchase, you will receive six paper inserts with a variety of themes to kick-start learning and play with your wooden matching game board. A favorite in our house is including family members faces to practice face and name recognition.  
These hands-on materials are perfect for homeschooling or anyone looking for a unique way to play and learn. This gorgeous three-piece learning board™ consists of a dry-erase base, a top board made from beechwood, and 12 2" discs. Paper inserts should be placed between the top and bottom board for play. 
Your child can use this board for everything from matching activities for kids to fine motor skill-building as they place and remove wooden disks.
Materials: Beechwood & clear/matte acrylic
Includes: 
 1 Peek a Boo Board™ (top & bottom)
 8 paper inserts
Trofast bin size: large
fits large Trofast bin
*Trofast bin not included with purchase.
Ways to play: 
Use this wooden matching game board for a variety of learning activities, including:
- Use the top board alone to create a fun drop-through game for your kiddos to practice posting.
- Play peek & find or matching games.
- Practice counting, categorizing, and identifying objects, and family faces, there are just so many ways to play!
- Use the base to draw pictures and complete patterns.
Pairs well with: 
Skills/ benefits: 
- vocabulary development
- supports cognitive development
- fine motor skills

Warning: Adult supervision is required at all times. Intended for children ages 3+. Many of our products contain small parts and should not be used by children under the age of 3. By purchasing our products you are assuming all risks associated with play. Please read our full liability disclosures here. In the event that a product should break, please discontinue use immediately. Creative Learning LLC is not responsible for any misuse of products.
Please note that each piece of wood will have various grains & striation patterns. Please read our FAQ page for care instructions.