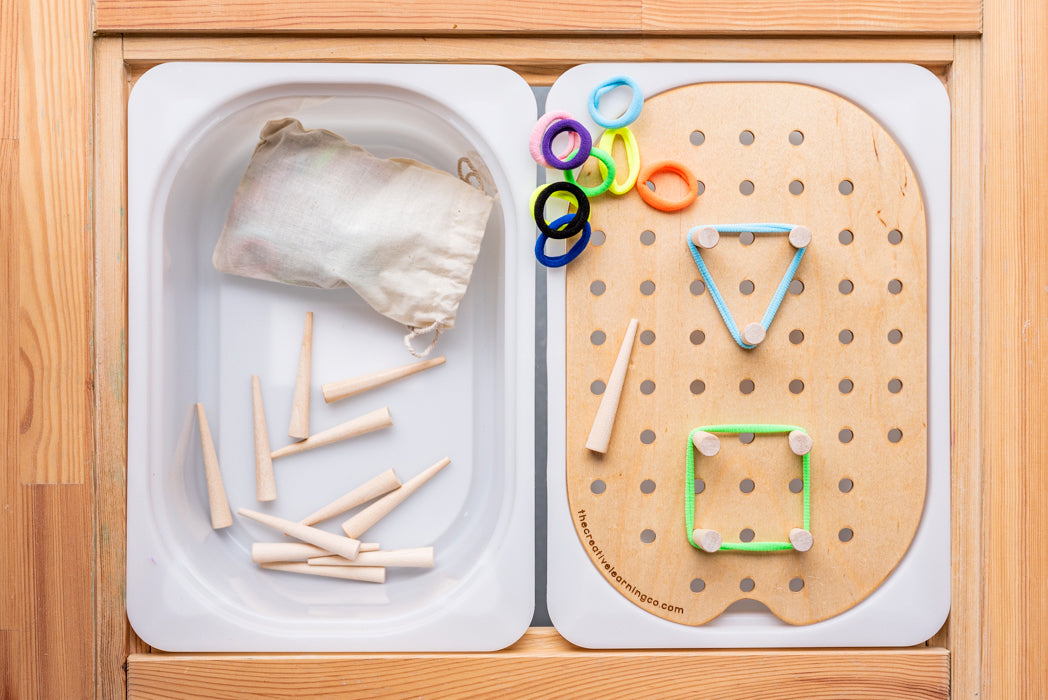 Peg Board (wood)
Original price
$0.00
-
Original price
$0.00
Our awesome wooden peg board comes with a variety of accessories that enhance creative play in a variety of ways. Enjoy as a traditional peg board or check out all the creative ways to play below. With so many ways to play, this is a must-have learning board for any kiddo! *Our overlay mat collection does not fit/work with this board*

Material: birch

 
Includes:  
1 small wood peg board

tapered dowels

stretchy bands
Trofast bin size: small
*Trofast bin NOT included with purchase. Must add to your cart separately * 
*Our overlay mat collection does not fit/work with this board*

 
Ways to play: 
This wooden peg board is a versatile base for a variety of hands-on learning activities and can help build fine motor skills. Try one of these games:
- Practice vertical beading using large-holed beads with a12-inch dowel (not included). This works to strengthen hand-eye coordination.
- Use the stretchy bands to create designs and have your kiddo finish the pattern or complete a picture.
- Stretch rubber bands across the tapered dowels to create a musical "instrument".
 
Pairs well with: 
Skills/ benefits: 

- Fine motor skills

- Hand-eye coordination

- Posting

Warning: Adult supervision is required at all times. Intended for children ages 3+. Many of our products contain small parts and should not be used by children under the age of 3. By purchasing our products you are assuming all risks associated with play. Please read our full liability disclosures here. In the event that a product should break, please discontinue use immediately. Creative Learning LLC is not responsible for any misuse of products.
 Please note that each piece of wood will have various grains & striation patterns. Please read our FAQ page for care instructions. All of our wood products are finished with an organic and plant-based wood sealer called Safecoat Naturals Oil Wax Finish.