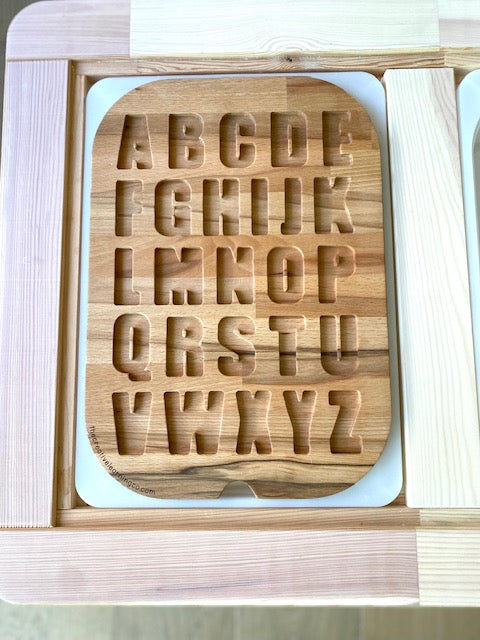 Resin Letter Wood Board (board only - no letters)
Original price
$65.00
-
Original price
$65.00
Our Resin Letter Board™ is the perfect addition to any chunky resin letter set. This board is beautifully crafted to fit the most commonly used resin alphabet sets on the market. Alphabetize letters, stack, sort, and play all day! This Learning Board™fits the large Ikea Trofast bin, but can also be enjoyed without a bin directly on the floor. 
Practice spelling simple words or your child's name or work on letter recognition and formation with this rein letter alphabet board.
* This board does NOT fit any of our acrylic letter sets, resin letters ONLY made by other small makers *
Material: beechwood (lighter wood) or walnut (darker wood)
Includes: 
 1 Resin Letter Board (board only)
Note: Resin letters and Trofast bin are NOT included with this order.  This listing is only for the resin letter board.
Trofast bin size: large
fits the large Trofast bin
*Trofast bin not included with purchase.
Ways to play: 
Practice letter recognition and make literacy hands-on with this resin alphabet set. Try one of these activities:
Pair with our Resin Letter Sound Sets™ (sold separately) to alphabetize letters, stack, sort, and play all day!
Fill the empty letter pockets with dry sensory material for tracing activities and more!

Fill a bowl with colorful pom poms. Have your child use a pair of kid sized tongs to fill each empty letter pocket with pom poms.  
Pairs well with: 
Skills/ benefits: 
- identify letters
- practice letter sounds
- hand-eye coordination
- fine motor skills

Warning: Adult supervision is required at all times. Intended for children ages 3+. Many of our products contain small parts and should not be used by children under the age of 3. By purchasing our products you are assuming all risks associated with play. Please read our full liability disclosures here. In the event that a product should break, please discontinue use immediately. Creative Learning LLC is not responsible for any misuse of products.
* Wood is a natural product and no two boards will look the same. Each board will have natural grains & striation patterns.  Please do not purchase if you do not like the look of wood graining. We will not accept exchanges for color preference. Please read our FAQ page for care instructions. *